Donald Trump rented a movie theater outside Des Moines, Iowa in order to provide free screenings of Director Michael Bay's latest film better known as "The Benghazi" movie. Ted Cruz devoted his closing statement with a plug for the "13 hours" drama-action flick. I didn't need the good Senator of Texas to drag me to the box office. In fact I opted to watch the movie over the GOP Debate Episode VII: The Birther Menace that took place two weeks before Episode VIII: Return Of The Kelly File hosted by Fox News in Iowa. Thank G-d for VCR & Youtube.


Screenwritten by Chuck Hogan (The Town) and Mitchel Zuckoff, Author of "13 Hours: The Inside Account Of What Really Happened In Benghazi". Starring John Krasinski (The Office,Jarhead) James Badge Dale (The Departed,24) Max Martini (Saving Private Ryan) Pablo Schreiber (Orange Is The New Black) are among those who portray our heroes in this Michael Bay gripping acount delivered more then just his typical schtick. Of course no Michael Bay flick is complete without explosions and plenty of fire power. Benghazi had enough real life action without looking like "Bad Boys" or "Transformers".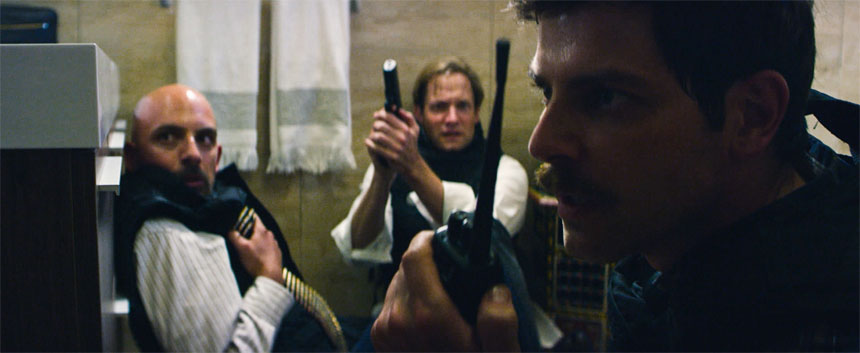 The film begins by giving you a crash course on Libya from dictator Qaddafi being captured and executed. The result leads to a power struggle among various tribes and factions to fill the vacuum that has been created. Many groups are violent radical jihadists whom the acting government in the capitol of Tripoli have been ineffective to counter. Under these circumstances, Jack Silva (Krasinski) travels to Benghazi to beef up security a the CIA annex building that sits a mile away from the temporary diplomatic compound. For a film that bills itself as non political, it sure goes out of its way to point out how bureaucratic and incompetent things are on the ground. The CIA chief on the ground (David Costabile) is the prime punching bag to make that case. He treats the security team as a burden and doesn't seem to value their professional opinion.
The attack on the diplomatic compound begins. This is where Michael Bay takes the gloves off. He spent 45 minutes masterfully building up to this part by dramatizing the tension on the ground and the security gaps that where in place. The CIA chief did not seem to get that he's in the midst of a war zone, he was getting ready to retire. So when he hears on the radio that Benghazi is under attack, he goes against the instincts of the six man security team and prefers to wait for confirmation. Our heroes at some point decide it's now or never. They arrive after a quick gunfight to discover the compound in flames. They save two state personal but find an other one dead. As for the Ambassador, he stood no chance against the fire that raged on the 11th anniversary of the attacks on 9/11. They now realize that the annex building is next. They prepare to fight for their country as Michael Bay shows off his chops while keeping stakes high and facts where they belong.
Perhaps this movie benefits from its low expectations.To be clear this isn't Clint Eastwood's "American Sniper" or Ridley Scott's "Black Hawk Down". The last time Michael tackled a serious biopic was "Pearl Harbor". That movie severely bombed at the box office.I knew to expect something different considering that three of the Six real life heroes, John Tiegen, Mark Giest, & Kris Paronto served as technical advisers on set. But you got to give credit to Michael Bay for taking this project seriously. You really feel for the ex special forces who skype with their families when the are not engaged in fighting the enemy and busting each others chops.
Politically speaking, Hillary's fate rests with the FBI's now extended investigation. 13 Hours doesn't mention Hillary by name but it doesn't have to. What is clear from this film that clearly nothing that resembled anything close a demonstration over a film against Islam ever took place. As well as security vulnerabilities in a chaotic region where an US Ambassador and three other brave Americans payed a heavy price for negligence and tardiness. The incompetence might have started on the ground but the buck stops at the top. No real support ever came. Thank G-d thirty six Americans were saved that night, but why lie about the fate of four of our best? Arrogance, political calculations, and a lack of basic understanding how the Middle East operates is behind this disaster and its cover-up.